The former president saw especially broad positive shifts on immigration and the culture of Washington.
Nearly a year after Barack Obama left the Oval Office, the public's opinions of his presidency have retroactively improved across the board, a new HuffPost/YouGov surveyfinds.
Half of Americans now say they approve of Obama's tenure in office, with 43 percent disapproving, for a net +7 rating, a modest improvement from where he stood last December.
But the former president has seen his image burnished more significantly during the past year on many of the specific issues he handled. The biggest shifts come regarding his record on the environment, on which he left office with already strong ratings, and on immigration and "the way things work in Washington," two of the areas on which he garnered his lowest scores.
Americans, who said by a 15-point margin in December 2016 that they disapproved of Obama's record on immigration, now say by a 3-point margin that they approve.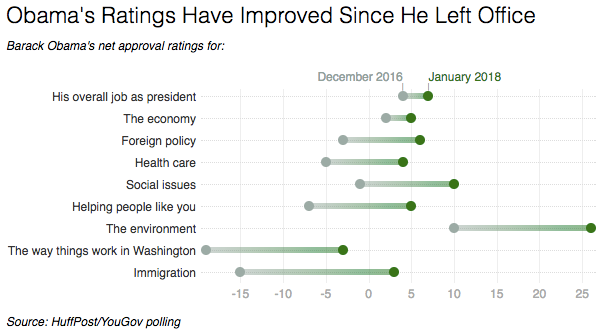 There's been relatively little movement among Hillary Clinton and Donald Trump voters, with a few exceptions ― since December 2016, for instance, Clinton voters have grown 13 points likelier to support Obama's record on the way things work in Washington. But some of the biggest changes appear to be among those who sat out the last presidential election. The share of non-voters who approve of Obama's record on the environment and immigration have risen 19 points and 17 points, respectively; and he saw a 14-point increase among that group for "the way things work in Washington," and for "helping people like you."
The upward trend isn't entirely new. Obama had already seen his ratings improve on a host of issues by the time a HuffPost/YouGov poll was taken last June. But in the months since, he's seen further positive re-evaluation on several topics, taking his ratings for foreign policy and immigration out of the red for the first time in these surveys.
Opinions about Obama's signature health care law also turned positive over the past year, and recent polling has found that Americans remain more likely to give credit to him than to President Trump for the current state of the economy.
Former presidents are often received more kindly by the public after they've departed the White House.
"Americans tend to be more charitable in their evaluations of past presidents than they are when the presidents are in office," Gallup's Jeffrey M. Jones noted in 2013. "Former presidents likely transcend politics when they leave office, moving into a more nonpolitical role compared with the highly political environment in which presidents operate. And Americans' retrospective views of presidents may focus more on their accomplishments as president rather than the day-to-day political decisions or the state of the nation that are big influences on their approval ratings while in office."