The diplomatic texts released by Congress overnight do not leave much doubt about the quid pro quo being offered to Ukraine. They also say a lot about how far the state department has been warped by the Trump administration.
The transformation is made clear by the three protagonists. Bill Taylor is on his second stint as ambassador to Ukraine, this time in an acting capacity because Donald Trump abruptly fired his predecessor in May. He is a 72-year-old Vietnam veteran with decades of experience.
Kurt Volker is another diplomatic veteran, a former ambassador to Nato who was until last week the administration's special envoy on Ukraine.
The third man is Gordon Sondland, a wealthy hotelier who paid $1m to fund Trump's inauguration and was then given the job of ambassador to the European Union last year. He has no previous diplomatic experience and Ukraine, not being a EU member, is not on his turf.
But it is clear from the texts that Sondland is in charge and driving the hard bargain with the Ukrainian president, Volodymyr Zelenskiy: do what we tell you or forget about a White House visit and a reboot of US-Ukrainian relations.
Sondland derives his authority by his connection to the White House – a power he repeatedly flaunts in his texts.
The institutional hierarchy of the state department carries no weight in these exchanges. The secretary of state, Mike Pompeo, is not even mentioned. We now know he listened to the fateful call between Trump and Zelenskiy, which is at the core of impeachment proceedings, but has since sought to keep his head down. He clearly did not obstruct the back-channel instructions coming from the White House, through Trump's personal lawyer, Rudy Giuliani.
As the impeachment storm has broken over Washington, he has absented himself on a European tour, going to see the pope and visit the Pompeo ancestral home in Italy. That may provide useful show reel for a much-awaited Senate run in Kansas, but when it comes to the political arena in 2020 total loyalty to Trump may cut both ways.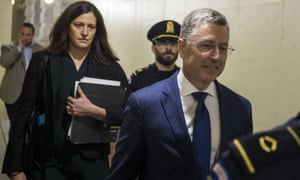 On Friday, the secretary of state was in Montenegro where he axed the question-and-answer part of his scheduled press conference.
Source :