The failed coup in Turkey may have revived a debate in Washington over whether the country should remain in the North Atlantic Treaty Organization and a host to U.S. nuclear weapons, but the response in Ankara and some U.S. diplomatic circles is simply puzzlement.
Secretary of State John Kerry said last month Turkey's post-putsch crackdown risked violating the military bloc's standards of democracy, prompting NATO Secretary General Jens Stoltenberg to issue a statement of reassurance that Turkey's 64-year membership is solid.
"What was he smoking?" James Jeffrey, a former U.S. Ambassador to Turkey, said of Kerry's comments. Kicking Turkey out of NATO would leave the U.S. "very disadvantaged vis-à-vis Russia and weakened with regard to Iran," he said.
 Turkish officials from President Recep Tayyip Erdogan on down have accused the U.S. of aiding the coup plotters by harboring the reclusive cleric they blame for the July 15 revolt, Fethullah Gulen. Erdogan responded to the attempt to oust him by purging tens of thousands of suspected Gulenists from the military, police, civil service, academia and media. He's also moved to repair ties with Vladimir Putin that frayed after Turkey shot down a Russian military jet along the border with Syria last year.
Kerry's rebuke about NATO's democracy "requirement" was later downplayed by the State Department, though some influential U.S. foreign policy voices picked up where the former presidential candidate left off, arguing that Turkey no longer shares America's values or objectives in the Middle East.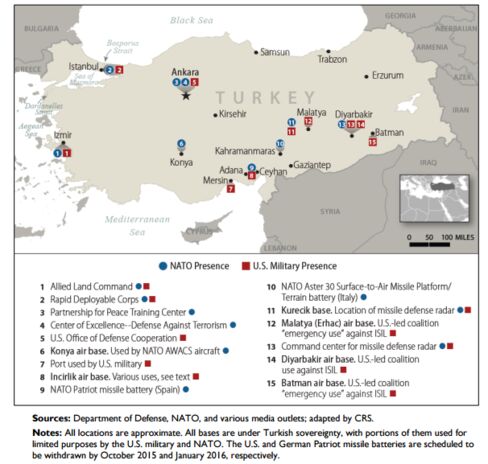 Secure Nukes
"It would be one thing to overlook the way the Turks have behaved if Ankara were indispensable to U.S. efforts in the Middle East and Central Asia," Steven Cook of the Council on Foreign Relations and Michael Koplow of the Israel Policy Forum wrote in article for the Wall Street Journal last week. "It is not."
Others, including the nonpartisan Stimson Center in Washington, have questioned the wisdom of leaving an estimated 50 short-range nuclear missiles at Incirlik, the Turkish-run air base less than 100 miles (160 kilometers) from Syria where power was cut during the coup and the commander was arrested for taking part. The Congressional Research Service later concluded the weapons were safe.
Vice President Joe Biden will fly to Turkey next week in an effort to limit the damage. Restoring relations will depend on whether the Obama administration extradites Gulen, who lives in Pennsylvania, a senior Turkish official said.
But leaving NATO isn't even a question for Turkey, the officials said, speaking on condition of anonymity to discuss sensitive issues.
Money Talks
One reason for that is money. Turkey's economy is more reliant on foreign investment than most emerging markets and leaving NATO would further damage investor sentiment, according to Tim Ash, a strategist at Nomura International in London.
The two sides are heavily invested in a partnership that was forged at the start of the Cold War, when Soviet dictator Josef Stalin wanted joint control of the strategic Bosporus Strait that links the Black and Mediterranean seas.
Stephen Flanagan, a former director of defense and strategic planning at the U.S. National Security Council, said NATO remains invested in Turkey for a host of other reasons. Not only do the European Union and NATO need Turkey to contain the westward flow of refugees from Syria, the country is a key transit point for the war in Afghanistan and a staging area for the fight with Islamic State, he said.
"Turkey needs NATO, it provides military training, defense capacity and intelligence ties," said Nihat Ali Ozcan, a former Turkish military officer who is now a security analyst at the Tepav research group in Ankara.
Cold War
Turkey has a long history of playing Moscow and Washington off against each other since it joined NATO in 1952 along with neighbor Greece.
In the 1960s, the Soviet Union gave more aid to Turkey than to any of its own satellites in the Warsaw Pact. In 1974, Turkey outraged the U.S. by invading Cyprus and Greece withdrew from the alliance's command structure in protest as tension escalated. Yet throughout, Turkey's membership in NATO has never been questioned, according to Ozcan.
Huseyin Bagci, a professor of international relations at Middle Eastern Technical University in Ankara, said those in the West who want to punish Erdogan for his autocratic behavior forget that Greece stayed in NATO when it was ruled by a military junta from 1967 to 1974, and that Turkey went through at least three military coups while in the alliance, including one, in 1960, in which the elected prime minister was hanged.
Asked if Turkey's military value to the U.S. and NATO has eroded, Bagci produced a copy of the 1936 Montreux Treaty, which gives Turkey control of the Bosporus. Stalin's designs on the waterway that separates Europe and the Middle East played a major role in NATO's decision to accept Turkey in 1952.
"Nothing has changed" about the importance of the Bosporus, Bagci said, except that NATO now has two other Black Sea states to defend, Romania and Bulgaria. "Turkey is a colossus" that stretches from Europe to Iran, Iraq, Syria and the Caucasus, he said. "You cannot move it somewhere else."