Nearly 31 million people watched President Donald Trump's inauguration, falling short of the audience that tuned in for Barack Obama eight years ago, according to Nielsen.
Fox News topped all broadcast and cable networks with 8.4 million viewers for its coverage from 10 a.m. to 6 p.m. It's a sign that a Trump presidency may bode well for the channel, which is owned by Rupert Murdoch's 21st Century Fox Inc. CNN averaged 2.5 million viewers, and MSNBC had 1.35 million viewers during the same eight-hour period.
NBC was the second-most-watched channel and topped all the broadcast networks, averaging 5.8 million viewers. ABC had 4.9 million viewers and CBS had 4.6 million.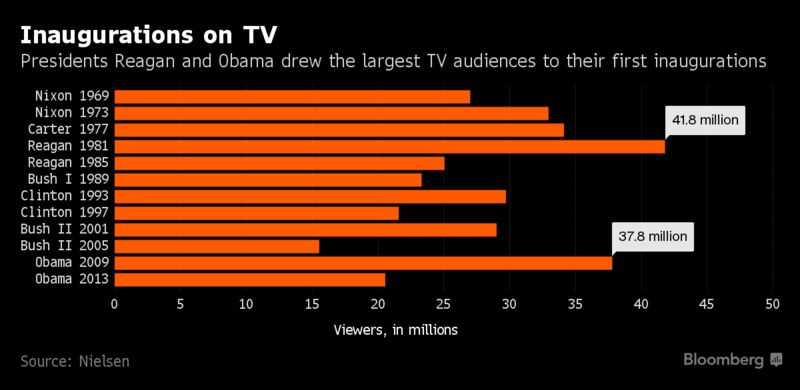 Obama's first inauguration in 2009 drew a national audience of 37.8 million, the second-largest since 1969, according to Nielsen data going back to Richard Nixon's first swearing-in. Ronald Reagan's first inauguration in 1981 holds the audience record at 41.8 million viewers.
Source: Bloomberg