More than two decades before Donald Trump rode a populist wave to become the 45th U.S. president, another billionaire businessman was transforming politics on an anti-immigrant platform less than 100 miles from Davos.
Christoph Blocher, a priest's son who revived plastics maker EMS-Chemie Holding AG from near-bankruptcy, turned a party traditionally supported by farmers into Switzerland's most potent political force.
While his Swiss People's Party, or SVP, mixed promises of curbs on immigration with attacks on the European Union, he also anticipated Trump's ability to connect with alienated voters, said Micheline Calmy-Rey, a Social Democrat who served as foreign minister in the government alongside Blocher.
"They are both charismatic and people understand them," said Calmy-Rey. "They are both very rich and part of the establishment and yet give the impression they can defend the poor."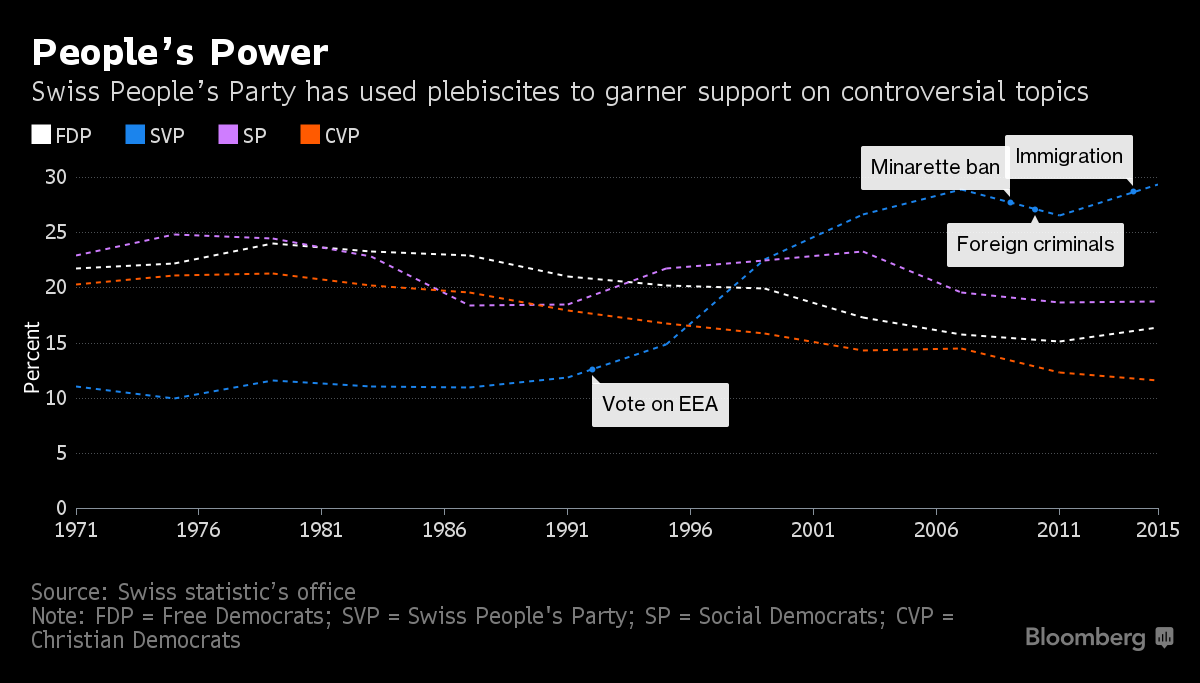 Blocher tapped the same disillusionment that drove Trump all the way to the White House and saw the U.K. vote to leave the EU. But for those in Davos, there may be some limit to the lessons from Switzerland. That's because Blocher and the SVP have also been largely tamed by the consensus-based system that for 60 years has brought together Swiss parties from across the political spectrum.
That only goes for its role in government: The SVP — whose pivotal moment came in 1992 when it successfully urged voters to reject joining the free trade union European Economic Area — has repeatedly used Switzerland's direct democracy as a campaigning tool. That system allows voters to express their views through plebiscites, soothing resentment against the establishment as people vent on initiatives ranging from banning minarets to curbing executive pay.
Family Fortunes
"It's easier for populist forces to express themselves, but also easier to integrate them into the system," said Rene Schwok, director of Global Studies Institute at the University of Geneva. "Opposition is a little bit less strong because Switzerland is a little bit less elitist than France, the U.K. and the U.S."
Blocher, 76, whose family fortune is worth at least $8.9 billion, according to the Bloomberg Billionaires Index — more than double that of Trump — handed over the reins of his business empire to his children when he became justice minister in 2003.
As one of a seven-member government drawn from the country's four biggest parties, Blocher was obliged to toe the line. That meant backing policies such as Europe's visa-free Schengen area that he didn't personally agree with, according to Calmy-Rey. "He couldn't act like a militant, but had to act responsibly."
Cartoon Sheep
Outside government, the SVP has continued to play on anti-foreigner sentiment. The party's main campaign ad for the 2007 election — a cartoon showing white sheep kicking a black sheep off a Swiss flag — drew criticism from a United Nations anti-racism watchdog.
While anti-immigrant referendums predate Blocher, the February 2014 vote to curb immigration was Switzerland's Brexit moment, according to Clive Church, an emeritus professor at the University of Kent.
"It's not quite on the Donald Trump scale of things, but it's very significant," said Church.
The academic added that Switzerland may also be at the forefront of a populist counter-movement that's using crowdfunding and social media. That's one reason the Swiss experience may be all the more compelling for world leaders and executives gathering next week in Davos to parse disaffection with globalization and the rise of populism from Hungary and Greece to France and the U.S.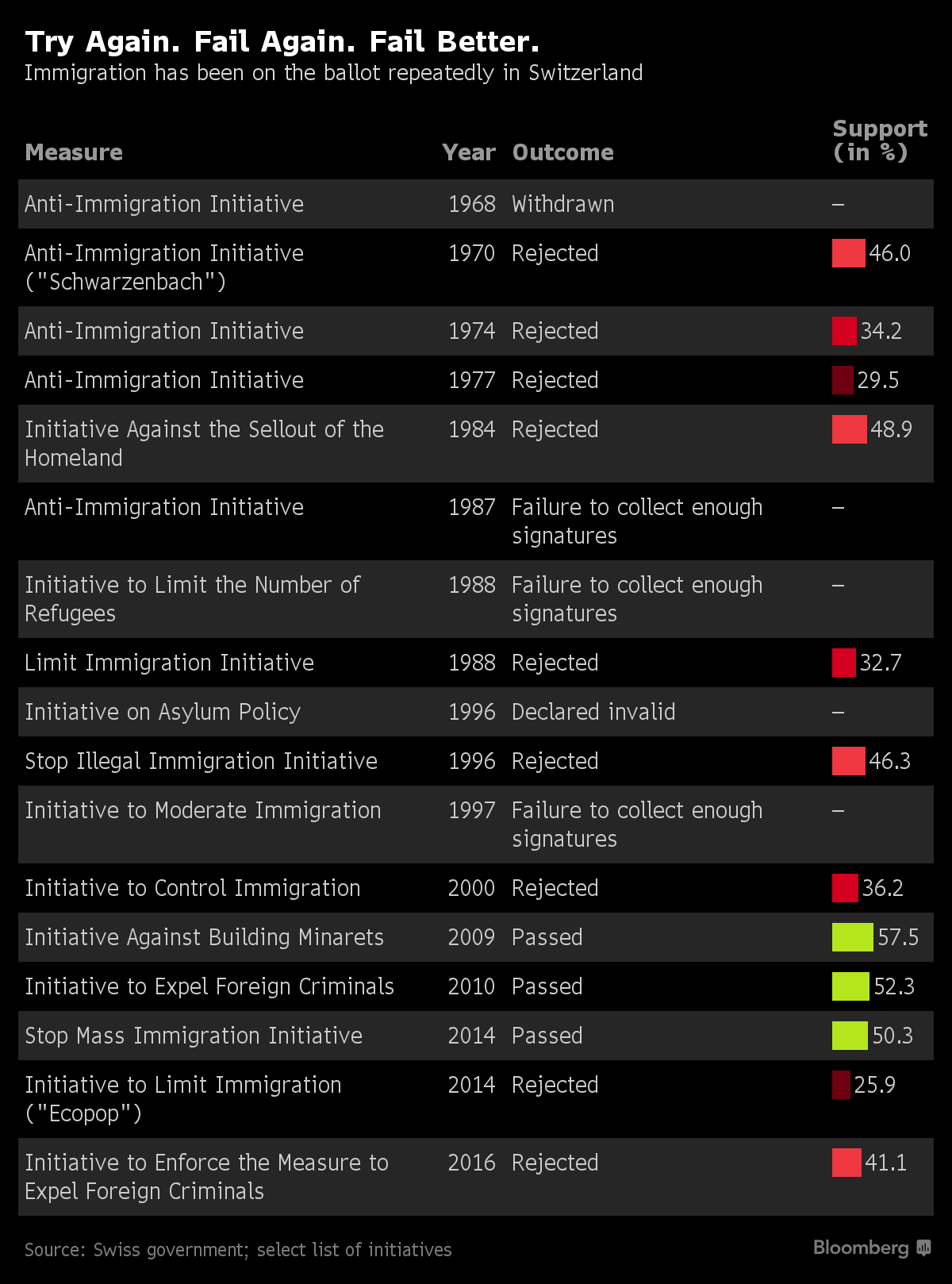 For Blocher, who remains the SVP's eminence grise, there is little doubt: the U.S. election shows trust in elites is waning.
"Fake elites create their own realities, in which they optimize their interests," Blocher wrote in a Dec. 8 op-ed in Weltwoche, whose publisher is SVP lawmaker Roger Koeppel.
While Blocher declined to comment for this story, Koeppel said there's increasing unease in western countries with the political class.
"People want something different," said Koeppel. "They're even prepared to elect a person like Trump, whom they don't love. They say they don't want the aloof, elitist policies any more, they want someone who at least says he's defending their interests."
Koeppel rejects a populist tag for the SVP, which he says is at odds with the party's roots in the 19th century — "the genuine populist is a seller of political snake oil."
Different Personalities
While the globalized nature of right-wing populism creates a "bridge" between Europe and the U.S., there are differences in style, with Trump closer to former Italian Prime Minister and media magnate Silvio Berlusconi than Blocher, according to Oscar Mazzoleni, a professor at the University of Lausanne.
"Blocher is coherent on issues such as immigration and pro-liberalism, which isn't Trump," said Mazzoleni. "Trump is closer to Berlusconi in terms of personality and character, an outsider without experience in politics."
While Switzerland reflects the tensions elsewhere in Europe, the history of fascism means this year's elections in France and Germany hold greater weight in determining whether the current wave of populism remains confined to "verbal violence," said Mazzoleni.
The risk of 1930s-style fascism is small, but Trump's victory is the first time a populist candidate has taken power in a Group of Seven nation since World War II, according to Jacob Funk Kirkegaard, senior fellow at the Washington-based Peterson Institute for International Economics. That in itself promises to eclipse Blocher and others populist pioneers in Europe.
"This is a new world and the U.S. is taking populism to another level," he said.
Source: www.bloomberg.com