US President Donald Trump has warned West Virginians not to vote for a Republican candidate who describes himself as "Trumpier than Trump".
Don Blankenship, a former coal baron, is out on probation after he was jailed when 29 workers died at his mine in 2010.
The 68-year-old is running for the US Senate against two Republicans.
West Virginians vote on Tuesday to determine their candidates for November's mid-term elections.
The winner of the Republican primary election will face incumbent Senator Joe Manchin, a Democrat, who has opposed some of President Trump's policies.
To the great people of West Virginia we have, together, a really great chance to keep making a big difference. Problem is, Don Blankenship, currently running for Senate, can't win the General Election in your State…No way! Remember Alabama. Vote Rep. Jenkins or A.G. Morrisey!

— Donald J. Trump (@realDonaldTrump) May 7, 2018
On Monday, Mr Trump tweeted to "the great people of West Virginia" that Blankenship – who is polling equally with his Republican opponents – "can't win the General Election in your State…No way!"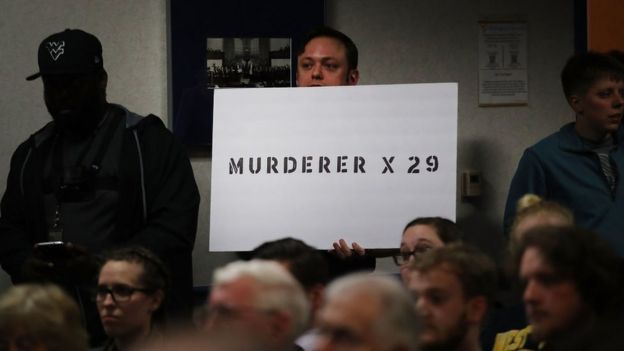 Why is Blankenship so controversial?
The former head of Massey Energy spent a year in jail after he was convicted of conspiracy to violate safety regulations in the wake of the Upper Big Branch pit disaster.
But on the stump on Monday, Blankenship reportedly said the deadly explosion was caused by the US government.
After his release from prison in May last year, he launched his political candidacy as an ultra-conservative vowing to thwart mainstream Republicans in Washington.
He has particularly targeted Republican Senate leader Mitch McConnell, claiming he is a "swamp captain" who has "given millions of jobs to China people".
"While doing so, Mitch has gotten rich," Blankenship says in one TV message that has been widely denounced as racist.
"In fact, his China family has given him tens of millions of dollars."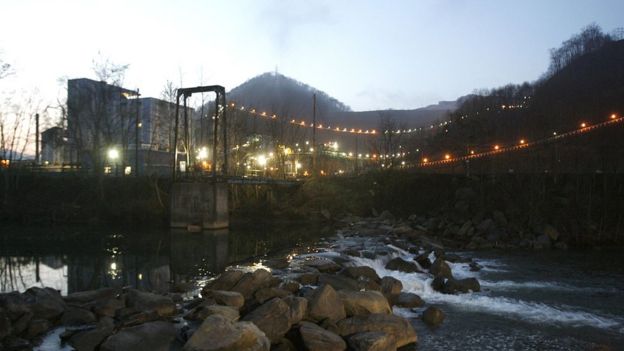 Mr McConnell's wife, US Secretary of Transportation Elaine Chao, was born in Taiwan and is of Chinese descent.
Blankenship has also referred to Mr McConnell, who has launched a political group to oppose him, as "Cocaine Mitch".
A haul of the drug was reportedly found in 2014 by Colombian authorities aboard a cargo ship linked to a firm owned by Mr McConnell's in-laws, the Chaos, though they were not implicated.
In a statement responding to Mr Trump's comments on Monday, Blankenship said: "The establishment is misinforming him because they do not want me to be in the US Senate and promote the President's agenda."
Blankenship's new advert includes an attack on the media straight out of the playbook of his political hero.
"The fake news is also pretending to be offended by the use of my words, 'China people,'" says Blankenship.
"They seem not to realise that China is a country, not a race."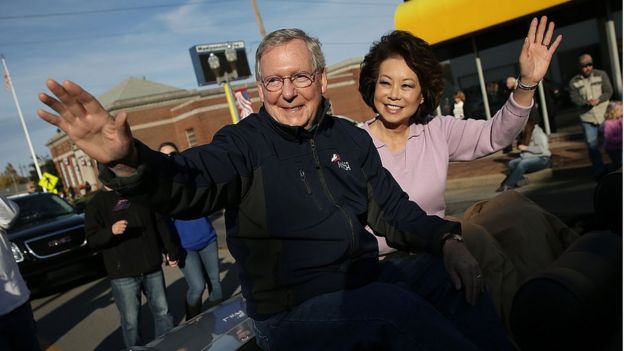 What happened in Alabama?
"Remember Alabama," Mr Trump said in Monday's tweet, referring to Republican Roy Moore, who lost his Senate election campaign amid claims of inappropriate behaviour with underage girls.
The president's tweet did not mention that he originally endorsed Mr Moore.
Blankenship hit back on Monday: "We all really like President Trump's policies but we know he doesn't get things right.
"He recommended people vote for a guy that was basically accused of paedophilia in Alabama."
Mr Moore, a former Alabama Supreme Court judge, crashed out of the race, handing Democrats their first Senate victory in the Deep South state since 1992.