Trump struggling names a new campaign manager and campaign chief executive
Donald Trump, whose presidential bid has been stumbling badly in recent weeks, is reshuffling his campaign's senior leadership.
This followed a day after an open letter to the Republican National Congress leadership surfaced in Talking Point Memo (TPM) calling for the immediate suspension of support for Trump.
In stinging letter voicing the collective grievances.  The GOP leaders and staffers are defacto surrendering, considering Clinton's victory as a foregone conclusion. In the open letter the 123 members of the G.O.P. wrote,
We believe Donald Trump's divisiveness, recklessness, incompetence and record-breaking unpopularity risk turning the election into a Democratic landslide….
The Republican nominee tapped pollster Kellyanne Conway as campaign manager and Breitbart News Chairman Stephen Bannon as campaign chief executive, Conway confirmed to POLITICO early Wednesday morning.
Unfortunately it is a change in the eleventh hour and maybe too late after a series of serious gaffes the presidential candidate made.
The attack against the Gold Star family of a Muslim Army captain killed in Iraq, and Senator John McCain particularly irked the large majority of centrist Republicans. It is maybe a Muslim who get's the Donald fired.
The reshuffle was first reported by the Wall Street Journal.
Trump told the paper "I want to win" and "That's why I'm bringing on fantastic people who know how to win and love to win." But winning is not enough. Trumps candidacy lack clarity, centrist and traditional support from within the Republican party.
Campaign chairman Paul Manafort, who had been effectively running the campaign for the past two months, will stay on in his current position.
But the shakeup seems to represent a diminution of his authority at a time when Trump's campaign is sliding in polls versus Democratic rival Hillary Clinton, and has been badly damaged by a string of controversies stemming from Trump's own impolitic pronouncements.
Nate Silvers, polling site "fivethirtyeight"  gave Trump only a 12.5% change of winning. A landslide for Clinton is no longer a hypothetical.
Clinton was quoted saying, "It's not over until it's over, and tomorrow is a really important day, particularly here in California,"
A view echoed by President Barack Obama in a piece of the Wall Street Journal warning against Democratic complacency Monday, telling members of his party that Republican nominee Donald Trump could still win the White House.
"If we are not running scared until the day after the election, we are going to be making a grave mistake," the president told Democratic donors.

"I don't have to make the case against her opponent because every time he talks, he makes the case against his own candidacy," Mr. Obama said.
Manafort, a veteran of several GOP presidential campaigns, had been brought aboard in late March to professionalize a shoestring campaign operation run by relative neophytes and powered largely by Trump's dominance of the news cycle through social media and mega-rallies.
Manafort emerged victorious from a power struggle with former campaign manager Corey Lewandowski, who was fired in June, but the Trump operation never came to resemble a traditional presidential campaign.
Trump's global impact is reflected in the market sentiments.  An investor survey conducted earlier this month by Nomura Holdings Inc. flags a long list of worries under a Trump presidency: from a possible rise in trade protectionism to threats to regional security if the U.S. cuts its military commitments in Asia.
The conclusion is clear: after Mexico, Asia is most at risk.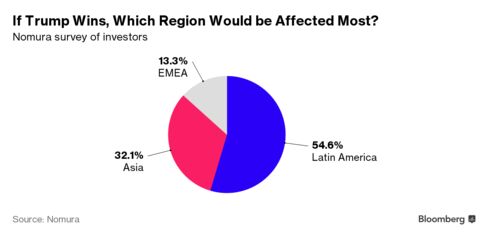 Source: Bloomberg
The U.S. is host to 35 percent of the total number of Filipinos working abroad, and Nomura estimates they account for about 31 percent of total worker remittances, a key source of foreign inflows for the local economy.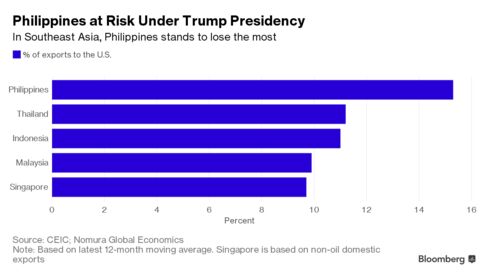 Source: Bloomberg
Many are concerned Trump's recklessness and ignorance harms allies and foes alike. A view echoed by the U.S. closest ally in the region, Australia.
The former Australian ambassador to the United States Kim Beazley has blasted Donald Trump in a piece for the leftist Guardian for destabilizing US alliances and encouraging nuclear proliferation in north Asia.
He said although Trump had "never aimed anything at us" he would "destabilize enormously the relationship we have in the north part of Asia with Japan and [South] Korea".
A view shared by the former Head for former CIA Director Michael Hayden.
Asked what concerns him most about Trump, Hayden responded: "How erratic he is."
"I can argue about this position or that position. I do that with the current president," Hayden explained. "But he's inconsistent. And when you're the head of a global superpower, inconsistency, unpredictability, those are dangerous things. They frighten your friends and they tempt your enemies. And so I would be very, very concerned."
Manafort's associates privately conceded in recent weeks his futile effort to instill message discipline in the candidate is frustrating.
And this week, things got harder for Manafort with a series of damaging stories about his past work for pro-Russian Ukrainian politicians and oligarchs.
Former national security officials like Michael Morell argued that Donald Trump is a threat to national security turned by the Russian president Vladimir Putin, a former KGB officer. Mr. Putin played upon Mr. Trump's vulnerabilities by complimenting him.
Micheal Morell: In the intelligence business, we would say that Mr. Putin had recruited Mr. Trump as an unwitting agent of the Russian Federation.
Conway, who has long served as a pollster for Trump's running mate Indiana Gov. Mike Pence, has been working with the Trump campaign since July.
Conway described the campaign overhaul as an "expansion" of the existing team rather than a shakeup. She noted that Rick Gates, a close ally of Manafort, would be remaining in his role as a senior aide to the campaign.
"Rick is fabulous and he and Paul have built a solid operation," she said in an email. The "expansion [is going] to accelerate our reach with just weeks to go."
Bannon has been quietly advising people around the Trump campaign for months, sources around the campaign tell POLITICO.
While he has no apparent campaign experience, Bannon is nonetheless considered influential in conservative politics because of his ties to the Mercer family of mega-donors and his perch atop the conservative Breitbart News, which has been supportive of Trump's campaign.
By Matthew Nussbaum, Kenneth P. Vogel (Politico) & Contributors (The Adams Chronicler, Politicio & others) 
(http://www.politico.com/story/2016/08/donald-trump-campaign-manager-kellyanne-conway-227097#ixzz4HZyGbywl)