On Thursday, the U.S. Department of the Interior announced plans to make over 90 percent of America's offshore continental shelf (OCS) available for future oil and gas exploration. The proposal fully reverses the previous administration's policy, which put about 94 percent of the OCS off limits for E&P leasing.
"Responsibly developing our energy resources on the Outer Continental Shelf in a safe and well-regulated way is important to our economy and energy security, and it provides billions of dollars to fund the conservation of our coastlines, public lands and parks," said Secretary of the Interior Ryan Zinke. "Today's announcement lays out the options that are on the table and starts a lengthy and robust public comment period. Just like with mining, not all areas are appropriate for offshore drilling, and we will take that into consideration in the coming weeks."
The draft plan includes 47 potential lease sales in 25 of the 26 planning areas – 19 sales off the coast of Alaska, seven off the Pacific coast, 12 in the Gulf of Mexico, and nine off the Atlantic coast. It is the largest number of lease sales ever proposed for the OCS five-year lease schedule.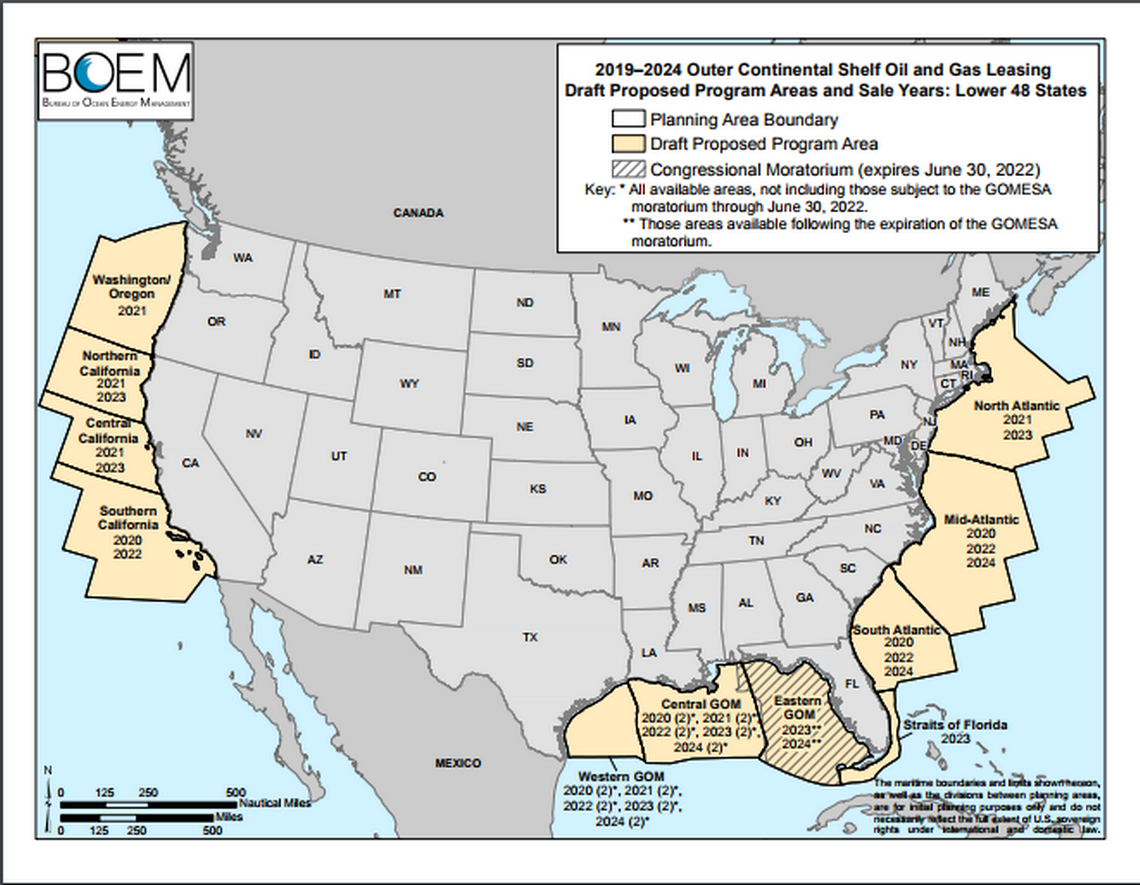 The proposal would reverse an effective five-year ban on new leases off the Atlantic and Pacific coasts; the previous administration backed away from a more limited Atlantic leasing program after encountering public opposition, and it did not propose Pacific leasing rounds.
As of Friday, the governors of Oregon, California, Washington, New York, New Jersey, Delaware, Maryland, Virginia, North Carolina, South Carolina and Florida had expressed their opposition to the new plan. In Florida, where tourism is the largest industry and drilling is prohibited within state waters, Gov. Rick Scott (R) said that his state should be removed from the proposal. "I have already asked to immediately meet with Secretary Zinke to discuss the concerns I have with this plan and the crucial need to remove Florida from consideration," he said in a statement.
A joint statement from the West Coast's three governors was particularly pointed. "This political decision to open the magnificent and beautiful Pacific Coast waters to oil and gas drilling flies in the face of decades of strong opposition on the part of Oregon, Washington and California – from Republicans and Democrats alike," wrote California Governor Jerry Brown, Oregon Governor Kate Brown and Washington Governor Jay Inslee. "For more than 30 years, our shared coastline has been protected from further federal drilling and we'll do whatever it takes to stop this reckless, short-sighted action."
West Coast fishing interests also expressed disappointment with the decision. "Zinke's announcement confirms what fishermen have known for months: the Trump Administration wants to put fish and fisheries at significant risk," said Pacific Coast Federation of Fishermen's Associations (PCFFA) director Noah Oppenheim. "The draft program, which is filled with obvious factual errors and omissions, could cost fishermen hundreds of millions of dollars if it is implemented. West Coast fishermen will not stand for oil and gas exploration and exploitation in our ocean."
In Alaska, governor Bill Walker (independent) issued a statement broadly supporting the proposal. "The Department of Interior's draft five-year offshore leasing plan is an important step toward allowing Alaskans to responsibly develop our natural resources as we see fit," he wrote. Maine governor Paul LePage (R) has also announced his support, and Georgia governor Nathan Deal (R) has not yet indicated his position.
The American Petroleum Institute and the National Offshore Industries Association hailed the plan as an important development for American energy production. "The oil and natural gas industry has the experience and advanced technology to develop the nation's offshore energy safely," said API Upstream Director Erik Milito. "We are continuously developing and improving safety standards, programs, new technologies, and best practices to protect our workers, the environment and marine life. And decades of experience have shown that offshore operations safely coexist with military activity, the commercial and recreational fishing industries, and coastal tourism."