Attorney General Jeff Sessions announced Monday that the Department of Homeland Security will refer anyone caught entering the U.S. illegally from Mexico to the Justice Department for prosecution.
"If you cross the border unlawfully, then we will prosecute you. It's that simple," Sessions said. "If you smuggle illegal aliens across our border, then we will prosecute you. If you are smuggling a child, then we will prosecute you and that child may be separated from you as required by law."
Sessions' so-called "zero tolerance policy" raises the possibility that immigration authorities could separate parents from their children whenever a family is apprehended attempting to cross the border. The Wall Street Journal, citing the Department of Health and Human Services, reported earlier Monday that 700 children had been separated from their families since October of last year.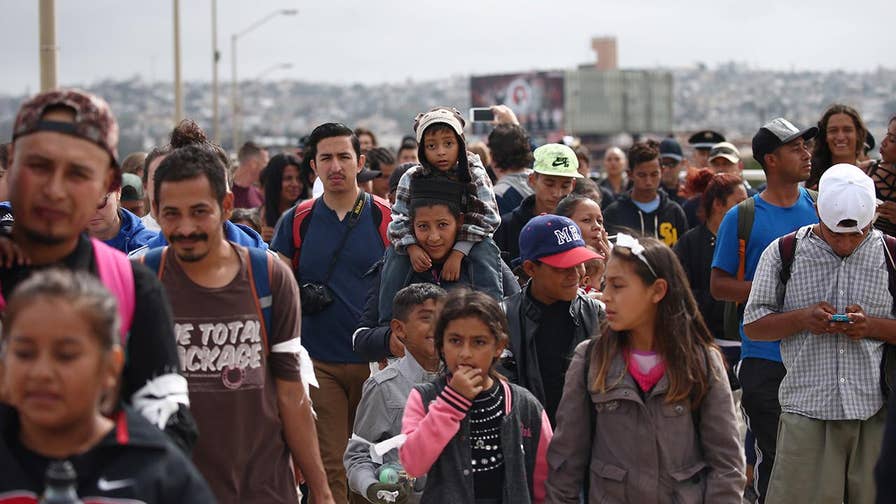 The attorney general added that making false statements to an immigration officer, filing a fraudulent asylum claim or helping others do so would be prosecuted as felonies.
"We're here to send a message to the world that we are not going to let the country be overwhelmed," Sessions said. "People are not going to caravan or otherwise stampede our border. We need legality and integrity in our immigration system."
Monday's announcement came about a week after hundreds of Central American migrants traveled to the San Ysidro, Calif., port of entry seeking asylum following a monthlong caravan through Mexico.
President Donald Trump described the caravan as proof that more must be done to secure the border with Mexico, including building a wall, while Sessions called it "a deliberate attempt to undermine our laws and overwhelm our system."
"I have no doubt that many of those crossing our border illegally are leaving behind difficult situations," Sessions said Monday. "But we cannot take everyone on this planet who is in a difficult situation."
Last week, Sessions announced that the Justice Department was sending 35 assistant U.S. attorneys to the southwestern border to to "prosecute illegal entries into our country," while 18 immigration judges would focus "full time" on clearing a backlog of asylum claims.
On Monday, Sessions said the Trump administration's actions were necessary because of "massive increases in illegal crossings in recent months."
"These trends are clear; these trends must end," Sessions said, adding that "11 million people are here already illegally. That's more than the population of Portugal or [the state of] Georgia."