It's no secret that many Americans are fatigued by the wars in Iraq and Afghanistan. Now it's clear for the first time that the troops are, too, according to a new poll conducted by Smithsonian with two partners, the Defense Department publication Stars and Stripes and the Schar School at George Mason University.
Seventeen years after the U.S.-led military invasions of Afghanistan and Iraq, more than 80 percent of 1,031 service members and veterans surveyed agreed with the statement that the occupations have "been going on too long." As far as we know, this survey was the first one to pose that question to current and former service members. Their frustration is significant because they also voiced strong support for the war on terror generally, with 83 percent saying it should continue.
On the home front, 65 percent of respondents backed the move by President Trump to deploy armed forces at the U.S. border with Mexico to prevent illegal immigration. At the same time, the great majority appeared to take a dim view of the administration's proposal to deport noncitizen service members or their families.
The military community was more in step with the administration's proposed policy, currently being challenged in court, to ban transgender people in the armed services; overall, only 39 percent of respondents said transgender people should be allowed to serve. In particular, though, female and millennial respondents were more in favor of transgender troops than the survey population as a whole, with more than 50 percent expressing support.
Taken together, the findings suggest that military life poses special difficulties for women, despite their eagerness to serve. About two-thirds of current and former female service members said they had experienced sexual discrimination while in the military. The same proportion said they had experienced sexual harassment or assault. That level of mistreatment is twice as high as other recent studies have reported; perhaps women subjected to such duress were more likely than other women to respond to the survey invitation. As for males, only 6 percent reported experiencing sexual discrimination, harassment or assault.
Some answers depended on the age of the survey-taker. Compared with millennials, the Greatest Generation was twice as supportive of sending troops to the border, half as supportive of transgender troops, far more likely to say the military prepared them for later life, and about one-seventh as likely to relax by playing first-person shooter video games.
Do you support the continuation of the war on terror?
I approve of transgender people in the military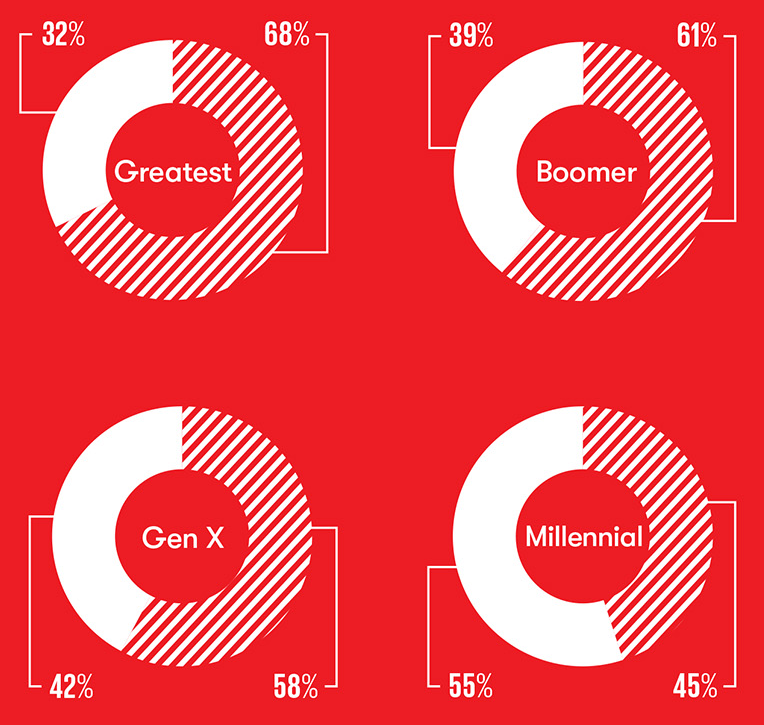 I support the deployment of female troops in ground combat situations.
Gender-mixed basic training reduces physical training standards.
If someone is serving in the U.S. military who is not a U.S. citizen, he or she should be immune from deportation.
If someone is serving in the U.S. military who is not a U.S. citizen, his or her spouse and children should be immune from deportation.
I support the use of U.S. military armed services deployed at the U.S.-Mexico border to prevent people from entering the United States illegally.
Which of the following do you feel is the greatest external threat to American security?
The current occupation of Aghanistan has been going on too long.
The current occupation of Iraq has been going on too long.
I would want my son or daughter to serve in the military.
If given the opportuity, I would join the military again as a career option.
I feel that veterans are being fully treated for their physical military career injuries.
I feel that veterans are being fully treated for their mental and emotional military career injuries.
I have experienced discrimination due to my gender or gender identity in the military.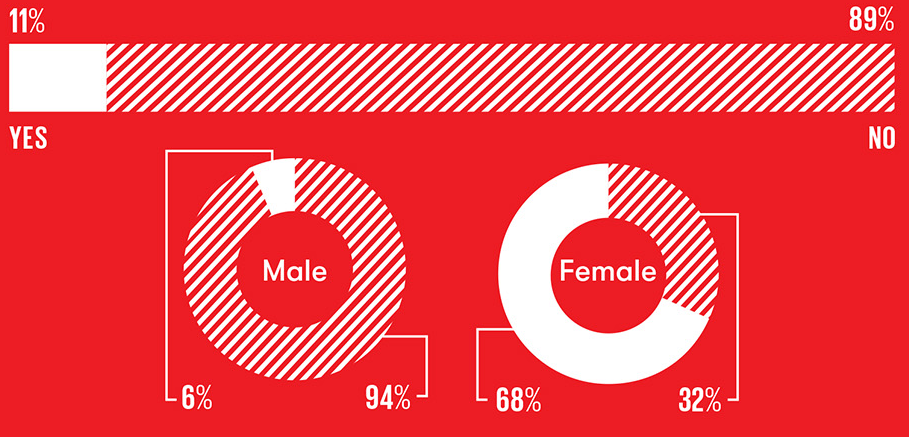 I have personally experienced sexual assault or sexual harassment in the military.
I have witnessed another service member being sexually harassed or assaulted during my service in the military.
In the poll, conducted over the 2018 Veterans Day holiday, more than 23,000 digital subscribers to Stars and Stripes news services worldwide received an email invitation to participate anonymously in an online opinion survey about military policy and conditions in the armed services. The respondents were 109 active-duty service members and 922 veterans from all branches of the armed services, including officers as well as enlisted personnel; among them were 76 women. (The analysis excluded 676 other respondents who were not current or former service members.) A research team led by Delton Daigle, a political scientist at George Mason University's Schar School of Policy and Government, designed the poll and performed the statistical analysis of results. Overall, the margin of error was plus or minus 3 percent, but the figure was higher for smaller subsamples; for results limited to female respondents, the margin of error was about 11 percent.