Authorities in Michigan's Meridian Township issued a public apology on Thursday to Brianne Randall-Gay, a woman who told police that former USA Gymnastics doctor Larry Nassar had groped her breasts and buttocks and attempted to penetrate her vagina during an appointment for back pain in 2004. A Meridian detective investigated the report but ultimately took Nassar's word over Randall-Gay's, accepting that the actions were part of a legitimate medical treatment.
"We let you down, Brianne. And the outcome of that is that we're all going to be better," township manager Frank Walsh said at a press conference that Randall-Gay attended via video.
Nassar was sentenced in January on seven counts of criminal sexual conduct in one of the largest sex abuse scandals in U.S. history. Meridian police are now planning several steps to improve their response to such reports.
"We know we can be better. We will be better, and we are sorry that we were manipulated and deceived back in 2004," Walsh said.
Randall-Gay, then 17, told officers that Nassar's treatment was unlike the back massages she had been receiving in physical therapy for scoliosis.
Detective Andrew McCready interviewed Nassar but did not consult any outside medical experts to confirm his statements. Nassar supplied the police with an informational slideshow on the purported treatment, including photos of a doctor applying pressure between the legs of young women. Walsh said that Nassar also "brought in a stack of medical journals."
The department's decision not to press charges had left her feeling "disappointed" and "ignored," Randall-Gay said Thursday.
"Although this doesn't erase the pain I felt," she said, "this process has been therapeutic for me and allowed me to let go of the anger I have had."
Nassar, who was employed by Michigan State University and USA Gymnastics, is expected to spend the rest of his life in prison. The number of women who have now come forward to say he abused them, usually during medical treatments, stands at 265.
Randall-Gay's partially redacted report to police was made public for the first time this week. She had seen Nassar twice, she said. At the end of her first appointment, to which she went with her mother, Randall-Gay said Nassar asked for a hug. The doctor referred her to another office for physical therapy, but told her to come back for a check-up.
At her second appointment, Randall-Gay was alone. She said he massaged her back and crotch for about 20 minutes and then moved on to massage her breasts for 10 to 15 minutes. Asked whether she felt pain, Randall-Gay told him no, even though she did.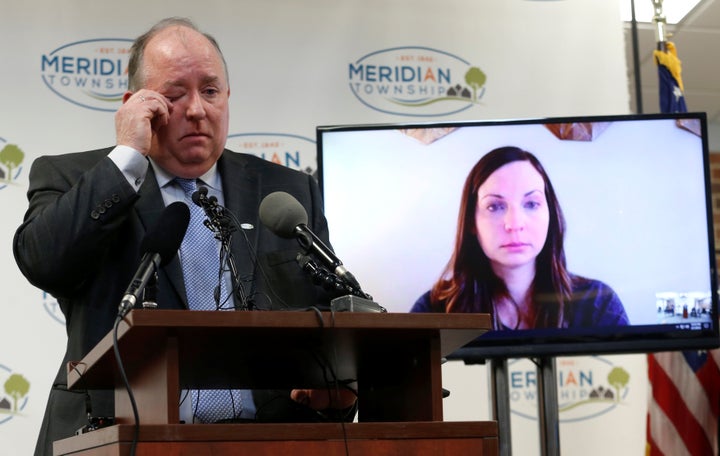 According to the police report: "He was trying to put his finger in her vagina. She had a tampon in her vagina, and she said that she could tell he could tell that it was there." Nassar asked for a hug after the second appointment, too, she said.
The day after the alleged assault, Randall-Gay told police that she felt "scared" and "uncomfortable" following the second appointment.
Nearly two weeks later, McCready interviewed Nassar, who said he'd touched his patient as part of a medical technique called "sacrotuberous ligament release."
Late last year, Walsh and Meridian Township police chief David Hall called Randall-Gay to apologize for how the department had handled her report. Recalling that phone call on Thursday, Randall-Gay said she broke down in tears.
She later met Walsh and Hall in person and discussed how the department could change for the better.
McCready, now a sergeant, did not participate in the press conference, but Walsh said he had also apologized to Randall-Gay in a "private conversation" and is "extremely remorseful." At the time of the assault, McCready was a four-year veteran of the department.
Hall outlined several new initiatives, including better training for police officers and staff led by outside consultants and a new community outreach program aimed at teaching young people how to recognize and deal with sexual abuse. In November, the department began combing through criminal sexual conduct reports from 2000 to 2018, searching for other mistakes. Hall said they have not found any yet.
Nassar's sentencing hearing for three additional counts of criminal sexual conduct is currently underway in Charlotte, Michigan.